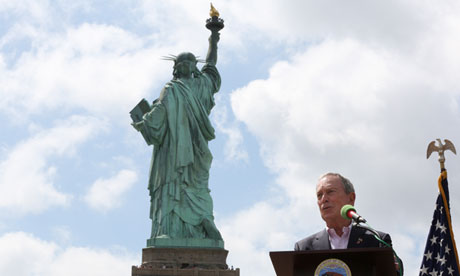 The Statue of Liberty reopened on Independence Day, nine months after the full force of Hurricane Sandy battered the island. Liberty Island was only open for a single day last year before it was struck by Sandy; it was closed the previous year for $30 million renovations. Mayor Bloomberg, U.S. Senator Robert Menendez and 17,500 visitors attended the reopening of the Statue of Liberty.
With its high elevation and iron framework, the statue itself was unharmed and proved itself able to withstand the strong winds. The rest of the island didn't fare as well. The immense storm ripped docks and paving stones off the ground, broke railings and flooded buildings. The storm also destroyed the infrastructure of the island: electrical systems, sewage pumps, boilers, and the elaborate security screening system. Three quarters of Liberty Island was submerged at the height of the surge; in effect, the land temporarily returned to the bay.
Repair costs for Liberty Island and Ellis Island, still closed, are estimated at $77 billion. The full recovery of Liberty Island should be completed by the fall.
In addition to its symbolic value, the Statue of Liberty also provides large economic benefits to the New York area. The island had 3.7 million visitors, $174 million in contributions and supported more than 2,200 jobs in 2011.
In relation to New York Mayor Michael Bloomberg's SIRR plan, the Special Initiative for Rebuilding and Resiliency, the construction on Liberty Island was not only for restoration but for resilience as well; action was taken to better protect the island from future storms.
Audio recording of Mayor Bloomberg at the opening of the Statue of Liberty:
[soundcloud url="http://api.soundcloud.com/tracks/100036402″ params="show_artwork=false" width="100%" height="166″ iframe="true" /]
Photo: Mary Altaffer/AP