Last month Mayor Michael Bloomberg laid out what is likely to be his final healthy living initiative while in office: encouraging New Yorkers to take the stairs. Bloomberg announced the creation of two bills that would promote taking the stairs as part of his many efforts to advocate exercise and fight obesity. Using the stairs as opposed to energy powered elevators or escalators is also the environmentally sustainable choice—no greenhouse gases are produced walking up a flight of stairs!
The first bill would affect new buildings, and would require that they make stairs more conspicuous via signage encouraging their use. The second bill would change building code to allow access to at least one set of stairs at all times, not just in emergency situations. The bills have to be approved by City Council in the coming weeks.
In the press release announcing the legislative package, Health Commissioner Dr. Thomas Farley stated, "Incorporating physical activity into daily routines is the best way to get the many health benefits of exercise. By integrating Active Design strategies into renovations and future buildings, New Yorkers will have new opportunities to be physically active throughout their days."
"By making stairs enjoyable, and giving them precedence over elevators or escalators more people will use them" says architect Jack L. Robbins. This is essentially the same principle as CitiBike: by making biking accessible and simple, more people will bike as opposed to taking the subway or a car. This promotes physical fitness and environmental sustainability.
While encouraging stair use is less controversial than banning sodas, questions still remain: what about employees who work on the 20th floor? What about the 50th floor? Would office apparel guidelines have to change if employees are running up and down stairs all day? How will disability laws be incorporated?
Bloomberg also enacted an executive order that requires all city agencies to begin following the design guidelines laid out by a new non-profit organization, the Center for Active Design. The Active Design Guidelines cover a variety of design measures with the goal of "changing the environment to reshape the available choices (you'll want to walk because it is easier, cheaper, faster, or more enjoyable)" according to Robbins. For stair-use alone they have five sections of design strategies including: "locate stairs near the building's entrance, make them more grand, inject natural daylight, ventilation, artwork and music into stairwells, add more landing spaces to help the out-of-shape" (Atlantic Cities).
The Center for Active Design has four key tenets to promote activity and reduce obesity through the design of buildings, streets, and neighborhoods:
Active buildings: encouraging greater physical movement within buildings for users and visitors
Active transportation: supporting a safe and vibrant environment for pedestrians, cyclists, and transit riders
Active recreation: shaping play and activity spaces for people of different ages, interests, and abilities
Improving access to nutritious foods in communities that need them most.
Active design in the workplace extends beyond just stairs. In an email to the Atlantic Cities, architect Joan Blumenfeld states "It is centralizing services such as printers and copiers so that people have to get up to use them, it is pulling people out of offices into workstations and then providing lots of collaborative space that people have to get up to use (instead of sitting in their offices all day). It is not using toxic materials in buildings and furniture."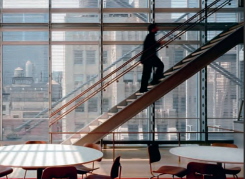 Small changes that encourage movement throughout the day could go a long ways towards promoting a healthy lifestyle outside of the office as well. Taking the stairs could very well be one step (sorry!) in the right direction of a more fit and sustainable way of life.